MoPac South Environmental Study
THE PROBLEM
MoPac Expressway south of Cesar Chavez Street is a vital artery for Austin commuters and neighbors, as well as visitors to our region. Consistently ranked as one of the most congested roadways in Texas, it attracts as many as 130,000 cars and trucks per day. The corridor provides access to neighborhoods, schools, businesses, parks and trails, recreational centers and commercial areas, all of which would benefit from enhanced mobility and safety. Over time, residential, retail and commercial development in the corridor led to increased traffic congestion, negatively impacting mobility and quality of life for the traveling public and adjacent neighborhoods.
If we do nothing to address congestion, drivers could spend an additional 35 minutes traveling the corridor by 2035.
IDENTIFYING A SUSTAINABLE SOLUTION
The Central Texas Regional Mobility Authority (Mobility Authority) and the Texas Department of Transportation (TxDOT) are working with local partners to improve mobility on approximately eight miles of the MoPac Expressway from Cesar Chavez Street to Slaughter Lane.
An Environmental Study is underway to determine the best alternatives for improving mobility and safety. A full range of alternatives was developed that took into account the needs of drivers, transit riders, bicyclists and pedestrians, as well as surrounding businesses, neighborhoods and the environment. Extensive analysis of engineering feasibility as well as social, economic and environmental impacts of each alternative was conducted.
Through that analysis, the study identified the Express Lane(s) Alternative as the Recommended Build Alternative. The study team continues efforts to identify the best configuration for this Alternative.
Throughout the process, the community was and will continue to be asked to share opinions on a wide range of topics, including:
Need and purpose for improvements to MoPac Expressway
Alternatives and roadway design
Bicycle and pedestrian accommodations
Corridor aesthetics
Neighborhood access and connectivity
Because the corridor is located within the Barton Springs segment of the Edwards Aquifer recharge zone, any potential project-related impacts to water quality are being carefully considered.
The study team also initiated a Context Sensitive Solutions (CSS) process, so that the proposed mobility improvements not only meet the needs of the community served, but fit into the physical setting and reflect the scenic, aesthetic, historic and environmental resources of the region.
THE PROCESS
ENVIRONMENTAL PROCESS
Click on the image below to learn more about the Environmental Process we follow.

AGENCIES AND THEIR ROLES IN THE ENVIRONMENTAL PROCESS
Many agencies participate in the development of an Environmental Study at local, state and federal levels. This chart identifies the agencies that participate in the MoPac South Environmental Study and explains how each contributes. It also identifies how the community can participate in the study.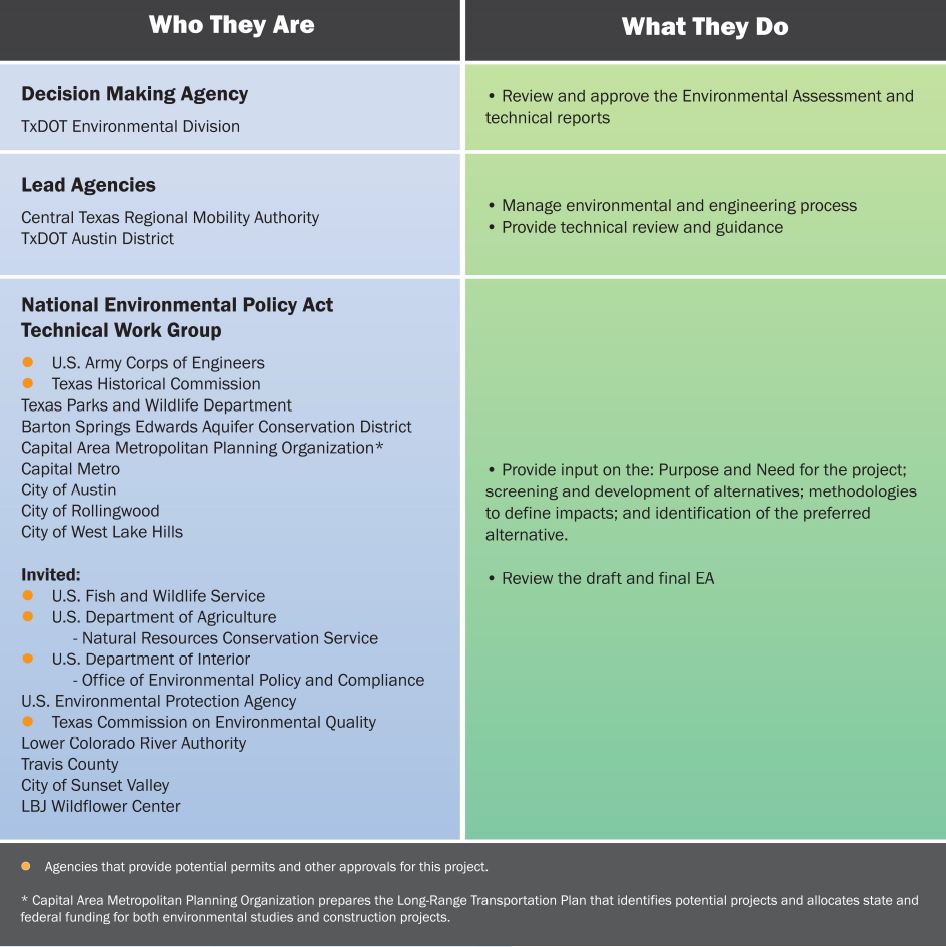 Contact Us

3300 N. IH-35 Suite 300
Austin, TX 78705

(512) 996-9778
Email Us