What We Are Proposing
Underpasses for Slaughter Lane and La Crosse Avenue
TxDOT will extend the MoPac mainlanes through both intersections by going under both Slaughter Lane and La Crosse Avenue.
Learn more: MoPac Intersections Preliminary Layout
Slaughter Lane/MoPac Expressway

La Crosse Avenue/MoPac Expressway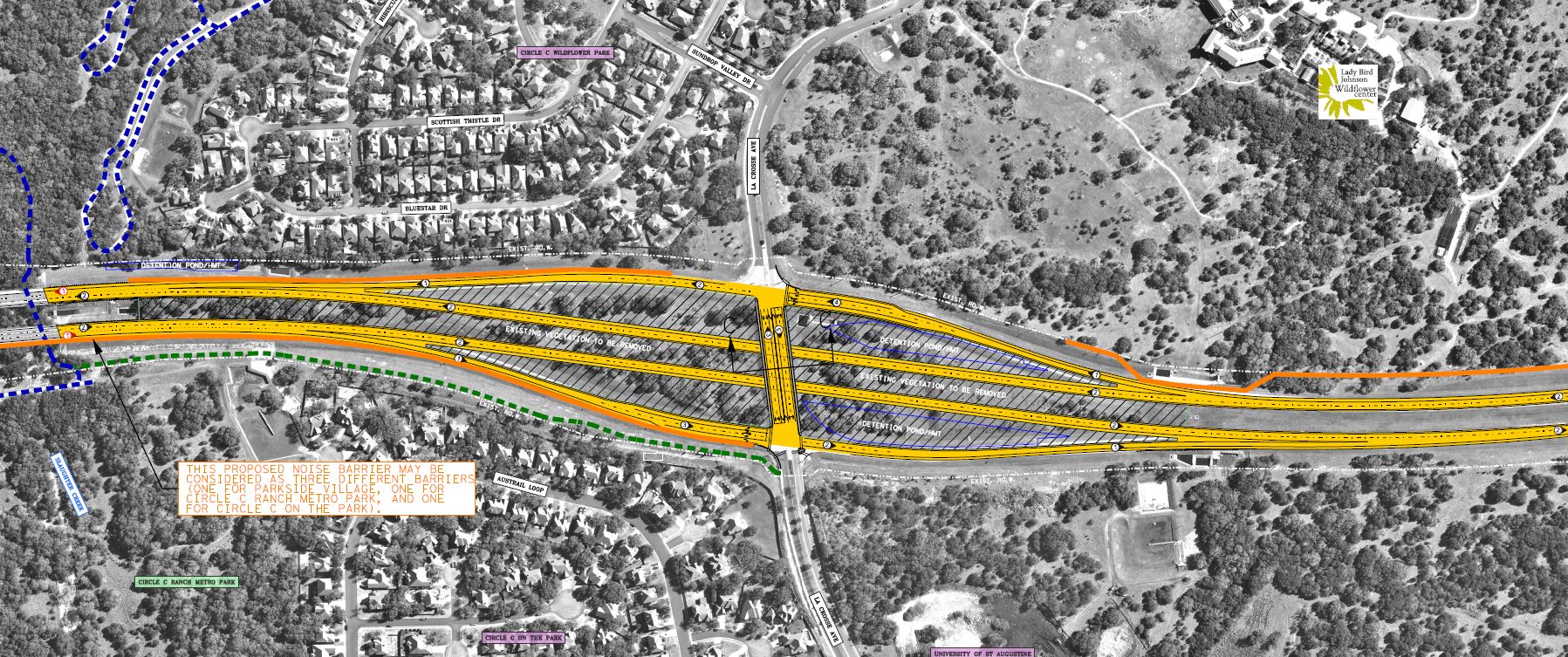 Area Pipelines
The study team is aware of three pipelines that cross the MoPac right-of-way near the intersections. They are the:
Magellan pipeline
Phillips 66 pipeline
Kinder Morgan pipeline
At this stage of project design, it is assumed that the extent of excavation for the roadway and ditches would be approximately 23 feet, which would not require the relocation or adjustment of the Magellan, Phillips 66, or Kinder Morgan pipelines. The need for adjustments to the Magellan pipeline will be further evaluated and determined during final design and coordinated with the pipeline owner.
Bicycle and Pedestrian Accommodations
Signal optimization and bicycle/pedestrian improvements are a part of the build alternative moving forward into final design. These improvements include an additional 10-foot wide shared use path on the west side of MoPac from Slaughter Lane to La Crosse Avenue.
This shared use path will supplement the existing recreational trail outside the right-of-way from Slaughter Lane to Slaughter Creek on the west side of MoPac

These improvements, in combination with existing and other pedestrian and bicycle facilities, would provide a continuous bicycle and pedestrian connection between Slaughter Lane and La Crosse Avenue (

as shown on the preliminary layout

)

Improvements are proposed to be made within existing right-of-way
Innovative Intersection Designs
At Slaughter Lane, the approved design is a Diverging Diamond Intersection, or DDI. At La Crosse Avenue, the project will build a conventional intersection, similar to most intersections in the area.
Contact Us

3300 N. IH-35 Suite 300
Austin, TX 78705

(512) 996-9778
Email Us